With all the rain, strong wind and cold temperatures, it's hard to believe that spring has arrived this year, but if there is one thing that reassures us that it is actually spring, it's asparagus.
Fun facts about asparagus:
Asparagus belong to the same family as onions (liliacee) and contain the rarely available vitamin K
There are a number of different varieties: green, white and purple, but their color depends mostly on the plants exposure to light. White asparagus are grown underground.
The beautiful and fresh frescoes and mosaics representing asparagus discovered in Pompeii still bear witness of the fact that they were an integral part of the Roman diet.
Pliny the Elder in the early 1st c AD in his book 'Natural History' wrote extensively about the aphrodisiac properties of asparagus.
Louis XIV, king of France, gourmand and keen gardener, had more than 6,000 plants of asparagus cultivated in the vegetable garden at Versailles
In Italy during spring a variety of asparagus called 'sea asparagus' can be purchased at the fish market to prepare a number of traditional recipes. They do not belong to the asparagus family but to a succulent plant – Salicornia europaea– that grow wild along the Mediterranean shores.
Another variety popular in Italy and known as 'wild asparagus' are but the shoots of the hop, used in beer production. They are not part of the asparagus but of the cannabis family (cannabacee)
Apicius, the first 'foodie' and food writer in history, who lived sometime in the 1st century AD, wrote the following in his collection of Roman cookery recipe's:
Asparagus soufflé
Break up 2 kg of asparagus and dip; mix aside pepper, garum (fish sauce fermented in salt, possibly similar to the Asian fish sauce), a glass of wine, 3 tablespoons of oil and fry. Add 6 eggs and the asparagus cream. Cover a pan with the mixture and place 4 chicken breasts with ground pepper. Cook as needed.
Recipe
Strawberry and asparagus salad with plant-based mayo dressing
In this season, strawberries also make their first appearance and the combination of the two ingredients in this salad create a stunning contrast of vibrant colours and brings the joy of spring, the season of rebirth, renewal and reawakening.
Chickpea water (aquafaba) base mayo is a fantastic alternative to egg-based mayo and it is SOOOO easy to prepare. It is truly a fool proof recipe.
The trick is to use the water from a can of chickpeas, as it is more concentrated than the water from the cooked chickpeas.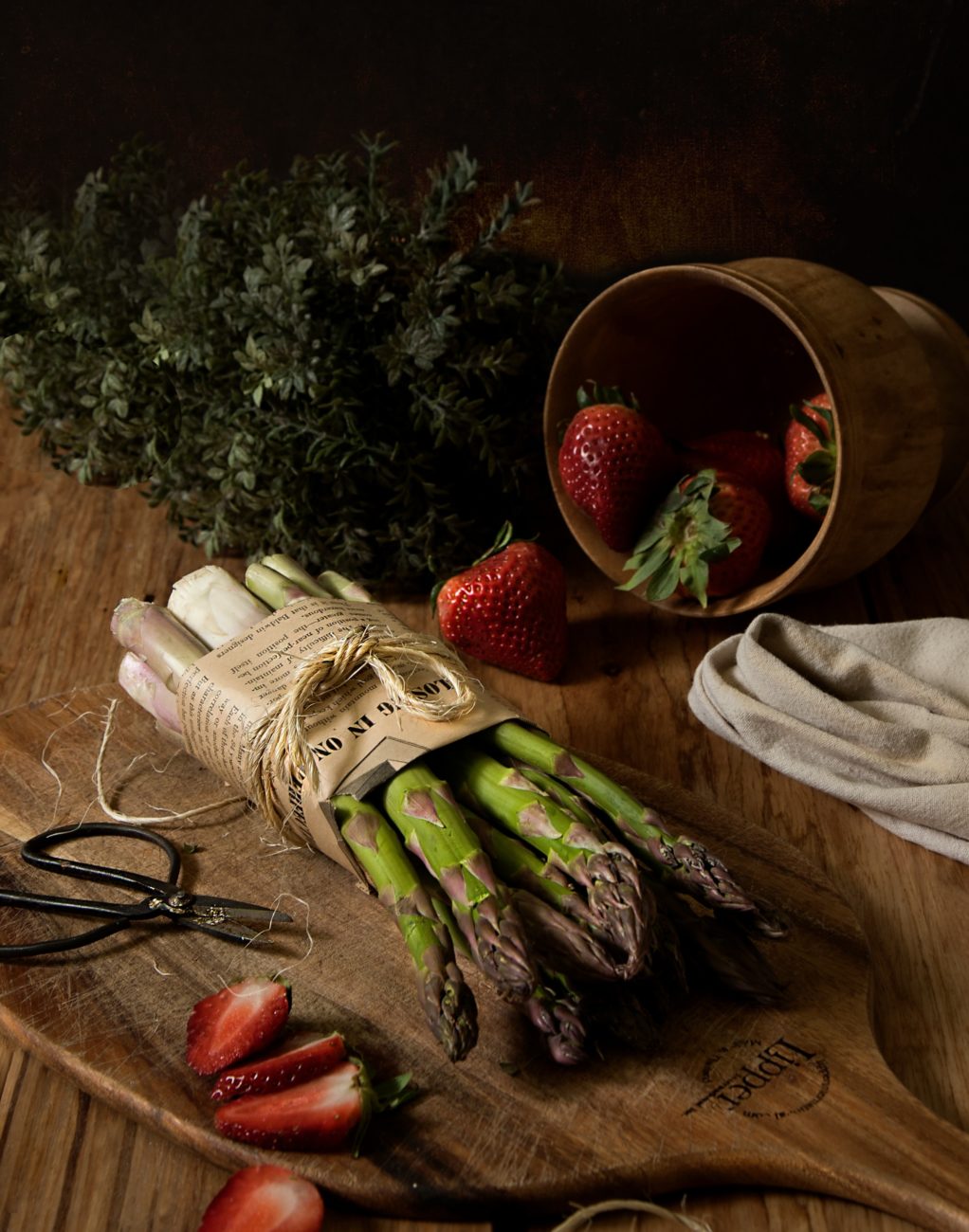 Salad ingredients:
1 x bunch green asparagus + 1 x bunch white asparagus (or simply 2 green bunches)
1 punnet (250 g) of fresh strawberries
1 tbs white wine vinegar
Fresh spinach leaves
Fresh goat cheese (optional)
Plant based mayonnaise ingredients:
3 tbsp aquafaba (chickpea water)
1 tsp lemon juice
1 tsp Dijon mustard in grain (optional)
1 cup oil (I use Ceres Organics safflower oil, as I find olive oil impart too strong of a flavour)
Pinch of salt
Method:
Halve the strawberries and place them in a bowl with water and 1 tablespoon of white wine vinegar to enhance the flavour.
In the meantime, cook the asparagus 'al dente'.
Drain the strawberries and combine them with the asparagus, goat cheese (if using), and spinach leaves.
For the mayo, combine all the ingredients in a glass jar and whizz with a stick blender for 30 seconds and …voila!
Serve the salad accompanied with the plant-based mayonnaise.