Al Dente hosts culinary events for groups and individuals who want to share several relaxing, adventurous hours in a beautiful location with congenial hosts.
Location: Long Bay, Auckland
Languages: Offered in English and Italian
Min. number of participants: 6
Max. number of participants: 20
Duration (see below for options): 2.5 hours or 4 hours

A typical day
We spend the day celebrating Italian cuisine and culture. In particular, we will explore the flavours of Modena. Firstly you will be welcomed with typical Italian 'stuzzichini' and either a Moka coffee (a true Italian coffee), juice, or a glass of bubbles. We will then talk about the history of pasta where you will be guided through an authentic ecstatic trip! I will begin showing you how to make fresh pasta/pizza/bread (whatever you have chosen to learn to cook!) before delving in yourselves to make your own fresh creation. Most ingredients we will use are certified organic (mainly from Ceres Organics) and if using vegetables and herbs they're always freshly picked from my garden (which most of my guests love exploring after the class!). As la villa is located on a green valley, a perfect way to close an exciting experience is to enjoy a moment of conviviality and the pleasure of sharing the food we have cooked. If the weather is nice we will enjoy our meal under the gazebo, with a glass of complimentary wine or beer. In case of adverse weather conditions, our meal can be enjoyed in the living room that has large windows overlooking the valley.
Long Bay is only a 30 minute drive from central Auckland.
What else you should know
Please report any allergies
Plenty of parking available right in front of the house
We are pet friendly!
This experience is open to all ages and is disability friendly.
What to bring
Bring an apron if you wish, your camera, your appetite and the willingness of share the Italian 'dolce vita'!
Our different options
Option 1: Express cooking class
Duration: 2.5 hours

Includes:
Welcome nibbles with a glass of wine or Aperol Spritz, juice, coffee or tea
All ingredients for what we'll be cooking
Goodie bags to take home with the food you have prepared
Email package including all recipe's and tips with what you learnt during the class

This experience allows you to enjoy the full Italian hospitality.
This option is ideal for corporate functions.
Option 2: Team building in cucina 

Duration: 4 hours

Includes:
As option 1 but includes a sit-down meal with what you have prepared including fresh homemade bread, a garden salad and the dessert you have prepared
Email package including all recipe's and tips with what you learnt during the class
Guests who have enjoyed la dolce vita:
3M
Shiseido
BNZ
Fabric Digital
Vodafone
The ALL BLACKS
The All Blacks at Villa Romantica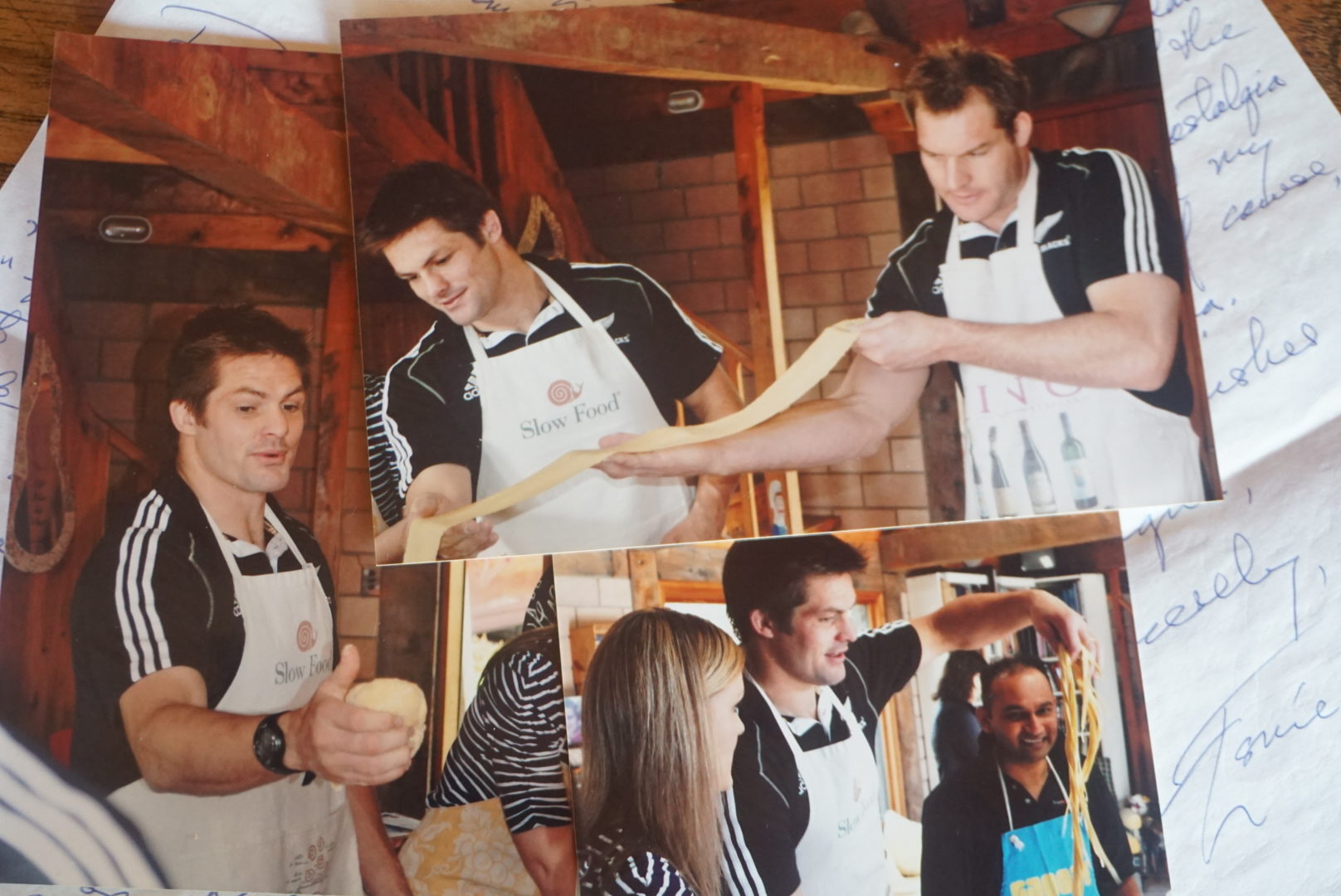 Your own cooking event
You are also invited to suggest your own cooking event. We will do our best to fulfill any reasonable request.
Located amongst nature in the very accessible suburb, Long Bay, the Villa Romantica offers multi-purpose spaces perfect for your special event. The Villa's kitchen and living area has a spacious, Italian rustic design with an outside deck and gazebo that overlooks a valley of rolling hills and a view out over the sea to Tiritiri Matangi.
Get creative
The Villa screams relaxation and romance, and has been the ideal venue for a variety of uses in the past including weddings, corporate events, birthdays & special occasions, fundraisers, music events, TV advertisements, and so much more.
Villa Romantica is perfect for anyone who wants to enjoy the best of Italy, in New Zealand.
Some suggestions:
Team Buildings / Italian Cooking Classes / Cooking Events / Weddings / Anniversaries / Birthdays / Reunions / Hens Parties / Stag Do's
Contact us now to discuss options around your event, or to book a viewing for the villa.